January 6 is one of the dates marked on the calendar of many people, and, especially, expected by girls and boys.
Cataloged as the arrival of the Three Wise Men or as it is known in other parts of the world, the Epiphany, it begins to be celebrated from the day before, that is, on January 5.
This celebration has its origins in the New Testament, which tells the story of Kings Melchor, Gaspar and Baltasar, who traveled at night from the most remote corners of the earth to bring gifts to the Child Jesus whom they themselves recognized. as the Son of God.
wise men
The first time that some "magicians" are named is in the Gospel of Saint Matthew, although there are no names, it does not say that they were kings or that, as has transcended in history, there were three. The Gospel tells that some 'magi' were guided from the east to a stable in Bethlehem by a star, on the occasion of worshiping the King of the Jews, Jesus, who had just been born.
After offering him their gifts, they were warned by an angel not to return to Herod's palace since he only wanted to end the child's life. And it is that Herod the Great, who at that time was the king of Judea, made them promise that once they found the child they would tell him so that he could worship him too.
The truth is that it was not until the Middle Ages when these 'magicians' were named.
However, this story is only told in the second chapter of the Gospel according to St. Matthew.
Melchior, Gaspar and Baltasar do not appear in the other three Gospels. Luke, who is the most exhaustive in the genealogy and birth of Christ, omits them. Mark and John begin their stories with the life of the adult Jesus.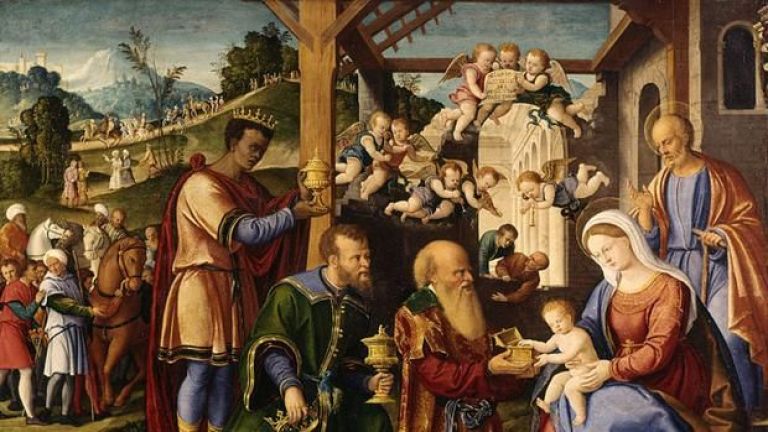 It was thus that a long medieval tradition baptized them as Melchor, Gaspar and Baltasar, and since then, and over the years, it has been established in our society and there are thousands of girls and boys who leave their letters every January 5 under the tree, waiting for the kings to appear leaving the gifts they had asked for.
Were they "kings" and "magicians"?
The mention of "magician" is linked to the Greek word magoi, which referred to people with a high level of education; that is to say, wise. They weren't kings either, and magoi would point out that they were astrologers.
In the Auto de los Reyes Magos, a work in verse from the 13th century, they appear named for the first time as Melchor, Gaspar and Baltasar; and they do not appear as kings but, precisely, as astrologers who would have calculated the moment of the Messiah's birth.
function toogleSeachBar() { if ($('#searchBar').is(":visible")) { hideSearchBar(); } else { showSearchBar(); } } function showSearchBar() { $('#searchBar').show(); $('#menu, .header-scrolled-container, .header-scrolled-container2').hide(); } function hideSearchBar() { $('#searchBar').hide(); $('#menu, .header-scrolled-container, .header-scrolled-container2').show(); }
$(document).ready(function () {
setTimeout(() => { window.fbAsyncInit = function () { FB.init({ appId: '1492337167736839', autoLogAppEvents: true, xfbml: true, version: 'v8.0' }); };
(function (d, s, id) { var js, fjs = d.getElementsByTagName(s)[0]; if (d.getElementById(id)) { return; } js = d.createElement(s); js.id = id; js.src = "https://connect.facebook.net/es_LA/sdk.js"; fjs.parentNode.insertBefore(js, fjs); }(document, 'script', 'facebook-jssdk')); }, 3000);
});