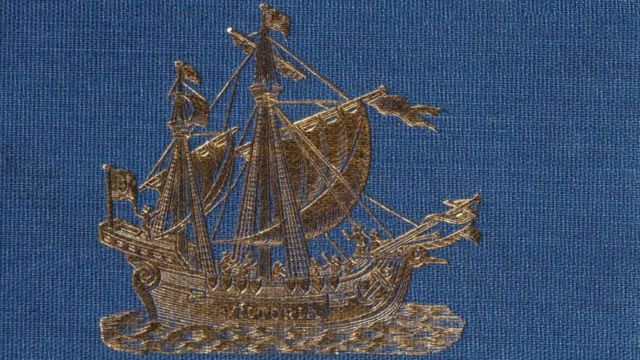 It was the star that convinced them that they had finally found what they had sought so many, so many times.
It was the legendary region of Ophir, where, according to the Bible, much of the precious stones, silver, ivory, sandalwood and tons of gold came from with which King Solomon (974-937 BC) was able to fulfill the promise of God to David: build a temple to house the Ark of the Covenant.
The same land from which, as it was deduced in the Middle Ages, the Magi procured their precious metals.
In pursuit of that, 150 men set sail in two ships, one of them appropriately named "Los reyes," from the port of Callao, Peru.
It was November 19, 1567, and the expedition ventured into the southern Pacific Ocean, hitherto unexplored.
They set out estimating that after traveling some 2,000 miles they would reach their destination, but it was not until they had sailed more than triple that distance that, on Saturday, February 7 of the new year, they finally spotted a promising place.
They had traveled 81 days, but they would have to wait another two because they did not find a place to dock until Monday.
"The island was surrounded by shallows and you could only enter through a strait. [el capitán Álvaro de] Mendaña, at that moment a star appeared that showed them the way to go", the academic and philologist Juan Gil tells the BBC.
What better confirmation that they had reached the island of King Solomon and the Magi than to see a resplendent star like the one that guided Melchior, Gaspar and Baltasar on their way to Bethlehem?
On the other shore
Although never with its precise location, the biblical Ophir appears several times in the holy book.
So for Europeans there was no doubt that it existed, and with each new exploration the hope of locating it was reborn.
After missing Africa, the dream moved west, with the discovery that there were other worlds in that direction.
"Christopher Columbus thought he found it on Hispaniola, and everything else was to follow in Columbus's wake," says Gil.
When the treasures of Mexico and Peru appeared, that pilgrim illusion gained strength, particularly when supported by writers of the stature of Benito Arias Montano, one of the authors of the Polyglot Bible, who claimed that etymologically, the "ophir"in Hebrew it had mutated into"pyru"or Peru.
Further west
But by the mid-16th century there was also a rumor circulating that in the Pacific, off the coasts of the ancient Inca Empire, there were fabulously rich islands, which it was speculated were the Biblical ones of King Solomon.
This was mixed with the theory of Pedro Sarmiento de Gamboa (1532-1592), a Spanish soldier and navigator who became the leading authority on Inca history and legends, who argued that this highly developed and wealthy society was not native to Peru, but came from a land to the west that the explorers had not been able to find because they had followed the prevailing winds and currents too far north.
His ideas persuaded Don Lope García de Castro, viceroy of Peru, who supported the idea of ​​an exploration trip, but wanted his nephew, Álvaro de Mendaña de Neira, 25, to direct it, with Sarmiento as second in command. .
This is how the expedition took shape that went out to search for what had been lost for so long in an ocean that had never been crossed.
And that island they arrived at was named Santa Isabel de la Estrella, after the patron saint of the trip and the star that ultimately guided them.
Despite the good omens, the stay on the island was so difficult that three months later, after repairing the ships, the crew voted to return to Peru.
Mendaña returned from what were called the Solomon Islands by those who later received news of his journey and drew a map of his discovery; so great was the anticipation for his success and so pervasive was the legend of Solomon.
Although they arrived with stories of an exotic place hitherto unknown to their compatriots, they did not bring the desired riches, so Mendaña received little praise for what was perceived as a failed journey.
But that did not detract from the desire to repeat the journey, only that on his return, Gil says, "he found that his uncle had been replaced by Viceroy Don Francisco de Toledo, who was at odds with his uncle, with which while Toledo was viceroy, Mendaña could do nothing ".
It took almost 30 years before he could return.
Disaster
"By then, Mendaña was an older man and he could not impose himself on his men," says Gil, who edited the book "In demand of the island of King Solomon", a work that contains the relations of the three expeditions that were made to the islands at the time.
More than logs, which detail the course, speed, maneuvers and other navigation accidents, relationships are reports of what happened.
The main voice is that of Pedro Fernández de Quirós, who was a pilot in the second Mendaña expedition, 1595-1596, whose mission was to establish a colony in the Solomon Islands, so the four ships carried 378 men, women and children ( including Mendaña's wife and other family members).
For Quirós, writing the relationship was "a way of describing it in his own way and of defending himself, presenting her as if he was completely innocent and blame off others. "
And is that "the expedition was actually a failure."
Mendaña was wrong several times when declaring that they had reached their destination early; Every time they set foot on an island – first Las Marquesas de Mendoza and then Santa Cruz – they treated the natives cruelly; there were constant internal disputes and chaos seemed to reign.
Finally, a fever epidemic took the life of Mendaña, and command of the ships fell to Quirós. But not for long.
"The island's inhabitants, who were very brave, were giving the Spanish a lot to do. Initially they were very happy to see the Spanish, but when they realized they wanted to stay, they rebelled at the idea."
Quirós, despite everything, wanted to stay, "but it seemed impossible to his men, so they locked him in his cabin, and they took the ship back to Acapulco. "
"The other ships went to Nueva Guinea and Manila, under the command of Mendaña's wife, Isabel Barreto, who had inherited the title of advance (person in command of a maritime expedition, who in advance had the government of the lands he conquered ) ".
"It is such an interesting story that the English novelist Robert Graves wrote a novel, 'The Islands of Recklessness,' based on it."
But this was not the end.
"Quirós was on two expeditions and, to save his skin, he counts both".
9 years later …
In 1605 Quirós managed to get the King of Spain to sponsor another expedition, this time with the purpose of finding and claiming for the Spanish crown and Rome the Terra Australis, a hypothetical continent that according to the Greek philosopher Aristotle should exist because the Earth had to be balanced.
He was accompanied on this trip by the other author of the reports included in "In demand of the island of King Solomon": Diego de Prado, who, like the continent they went to look for, counterbalances the version of Quirós.
"They are two very different relationships: Prado's is more direct and more cheerful. For the first time, in it you can hear the Spanish and the natives laugh out loud, something strange because generally in Spanish relationships, feelings are spoken very little, "says Gil.
"He says that the chief of the indigenous people of Nueva Guinea, after seeing how the Spaniards killed a pig with an arquebus, tried to imitate them, but instead of shooting, what he made was a noise: boom! And all the indigenous people started to laugh.
"On another occasion, the Spaniards were preparing because they thought that the natives of the place were going to attack them when suddenly they saw some birds get up and they could not help laughing when they saw that a flock of birds had scared them in some reed beds."
Although the idea was to travel south, in search of that southern continent, "when Quirós reached twenty-odd degrees south latitude, he gave up."
"He is a very enigmatic man; you cannot really see why he did not continue the expedition he promised. And in his story, Diego de Prado says that at that time: 'To the south you could see three very large clouds, two of them white and a black one '.
"Sure," Gil emphasizes, the Three Wise Men: two white and one black".
Remember that you can receive notifications from BBC Mundo. Download the new version of our app and activate them so you don't miss out on our best content.