In a Sydney suburb in 1981, a young George Cruickshank and his two friends they painted a border line in their backyard and declared the ten-square-meter piece of land provisional territory of the Empire of Atlantium.
After being crowned Emperor George II, Cruickshank issued a unilateral declaration of independence from the Commonwealth of Australia. The trio raised a flag and thus the micronation was officially born, which is one of over a hundred micronations worldwide.
A micronation is a self-proclaimed sovereign state that it lacks a legal basis for its existence. Due, are not recognized by the established nation states, but that does not stop them from taking on the ceremony, the pomp and even their governing structures.
However, imitation is not necessarily a form of flattery. Founders of micronations like Cruickshank seek challenge the notion of nation state and show how artificial they are.
"The idea of ​​a sovereign nation-state having full authority over its citizens within defined borders is only a fairly recent development, and it led to all the horrors of the 20th century," the emperor says.
While the interest of the other co-founders of Atlantium eventually faded, Cruickshank found himself increasingly engrossed in the affairs of his micronation. He issued stamps, minted coins and bills, appointed diplomatic representatives, and designed flags and insignia.
He also adopted a decimal calendar system that divide the year into ten monthsand in 2008, it purchased a 200-acre rural property some 350 km from Sydney, which became its administrative capital.
He spends most of his weekends in Concordia, in the province of Aurora, where writes political statements and exchanges letters with other micronation leaders and "unaccredited diplomatic representatives" of Atlantium in the United States, Singapore, and Switzerland.
The 0.75 square kilometer property consists of bushland and a cabin that functions as Government House. An adjoining post office sells currency, stamps, and postcards.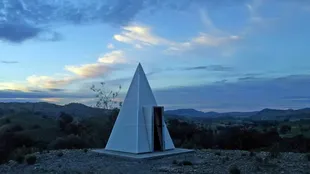 The size of the territory of Atlantium is the vatican double and its 3,000 "citizens" hail from 100 countries, though most never set foot there. It also meets the four criteria of a state defined by the Montevideo Convention of 1933, they indicate.
It has a permanent population (if you count its 3,000 remote citizens), a defined territory, a government, and the ability to relate to other states. However, to date, they are far from being considered a nation as such.
"The founder of a micronation can say that it meets the international law definition of being a state," says Harry Hobbs, a professor at the University of Sydney and co-author of a new book called "Micronations and the Quest for Sovereignty."
"The problem is that it lacks a legal basis to exercise sovereignty over a territory", he added. The lack of recognition doesn't bother Cruickshank. "Atlantium does not fight for legal recognition as a sovereign state. Their goal is to make people question the existence of traditional nation states," he says.
When Queen Carolyn of Ladonia ascended the throne in 2011, Emperor II sent her a congratulatory message and an invitation to a micronations conference in London. Ladonia was founded in 1996 after a long legal dispute between local authorities in Sweden over a set of sculptures built by the late Lars Vilks.
his first queen had ruled for 14 years when he abruptly stepped down. At the time, Carolyn Shelby held the position of Cabinet Minister.
"Ladonia was facing a constitutional crisis because we had no queen and the queen's heirs did not respond to our attempts to contact them," he explains from his residence in Chicago, USA.
With the queen abdicating in absentia, elections were held to find a new one. Ladonia's constitution stipulates that it will never be ruled by a king. "Historically, women got the worst of it when it came to being rulers, so the founders of Ladonia wanted to reverse that," remark.
Queen Carolyn traveled to the remote capital of the micronation of Nimis in Sweden for the coronation ceremony. Nimis is a series of wooden sculptures in a nature reserve that covers an area of ​​just 1 km2 and is only accessible on foot. However, thousands of people make a pilgrimage there every year.
Ladonia currently has 27,000 registered citizens, most of Sweden, USA and Russia. Its citizenship application page stresses that the certificate granted cannot be used for travel or employment rights.
It is "a gesture of support for freedom of expression and the arts, the ideals that are the foundation of this micronation", considers Carolyn. Discussions are regularly held on the purchase of land for the citizens of Ladonia to live on.
"It is a matter of money. Land near Ladonia is inordinately expensive. Our citizens want us to buy land in Spain or Italy. But we must buy land in a country that will not pounce on us and crush us", he highlights.
Part of its role is to ensure that the Ladonian community does not incur the wrath of the authorities and threaten its very existence. "We make fun of existing structures. If you take yourself too seriously, you start to attract negative attention from larger nations. Nobody wants separatists on their borders", He says.
Cruickshank watched with dismay as some micronation founders take things too far. The Principality of Hutt River in Western Australia came into being in 1970 when Leonard Casley attempted to secede from Australia over a dispute over wheat production quotas.
In 1977, Prince Leonard -as he called himself- briefly declared war when he found out he was being prosecuted for unpaid tax debts.
Hutt River earned the title of the oldest micronation in the world, but ultimately ended up with a $2.2 million tax bill. Calsey abdicated in favor of his son in 2017, and in 2020 he was forced to sell the property and dissolve the successful resort to pay off debt.
"Prince Leonard he was a cunning guy, but he also had some strange ideas. He gave me some documents with numerological calculations and strange kabbalistic references that were basically designed to show that he is a special person," Cruickshank details.
"The micronations that have the most problems are those that act as if they are in competition with another state," says Harry Hobbs of the University of Sydney. "States do not want to relinquish jurisdiction over territory that they perceive as theirs, or that they may want in the future."
The line between fantasy and reality often becomes blurred. queen carolyn used to work as a computer in it Chicago Tribunewhere an editor jokingly instructed his interns to stand up when the "queen" entered the room and never turn their backs on her.
"One day I walked into the newsroom and an intern stood up and was trying to get others to stand up as well. Another time he brought something into my office: he handed it to me and then he kind of bowed and left", bill.
Cruickshank describes Atlantium as a "sustained performance art project". "I am smart enough to know that I am not a royal monarch with royal power. But the more people accept something as fact, the more real it becomes.", he specifies.
"People treat me with deference at official events and I receive letters addressed to me as 'Your Imperial Majesty'. I can't be flippant in response." also exists the possibility of tragic misunderstandingsHobbs explains about it.
"There are cases in which people who they escape desperate situations, pay a fee to become citizens, and then the micronation has to tell them that it's not a real country. And the person says, 'What kind of joke is this?' This is where it comes into real life."
Australia is considered "the world capital of micronations" because it has more than a dozen of them. Some are fun, like Atlantium, while others were formed with a specific goal in mind.
The Gay and Lesbian Kingdom of the Coral Sea Islands was formed in 2004 in response to the Australian government's refusal to recognize same-sex marriages. It gained significant media attention and was disbanded in 2017 when Australians voted to legalize same-sex marriage.
Hobbs believes that micronationalism is consistent with Australian culture, which "celebrates flouting authority": "Australia is pretty sure of its sovereignty. It is a continent with a sparse population. The government says something like, 'We don't really care, as long as you keep paying taxes.'"
No micronation has managed to become a country, but that does not necessarily mean failure. Success depends on what a micronation sets out to achieve. The Free and Independent Republic of Frestonia was formed in London in 1979 after authorities threatened 120 residents with eviction.
Frestonia had its own newspaper, and the postal service honored Frestonian postage stamps. Shadow Chancellor of the Exchequer Sir Geoffrey Howe (of the opposition party) published a letter of support.
He even won a legal dispute about its claim not to be part of the UK for the purpose of screening a film. It managed to protect the area from development and existed until 1983.
"It caused political upheaval that forced the government to change its plans," says Hobbs. Meanwhile, the Kingdom of Elgaland and Vargaland claims sovereignty over the areas between the borders of countries around the world. "It makes you think of the border regions rather than the territory itself," he adds.
And still original are the Ambulatory Free States of Obsidia, what is a one kilo obsidian rock that its founder, Grand Marshal Yagjian, carries in an official state briefcase. Formed in 2015, the micronation claims to be "located at the confluence of feminism and geography."
"The future of micronations is bleak if the goal is to create a state, because that never works. However, the community theme is brilliant. There will always be people who enjoy creating a community of like-minded people and participating in diplomatic practices", completes the university professor.
By Jessica Mudditt
BBC News World