The alarms are lit in the MX League a few days before the start of the Clausura 2022. The teams are already beginning to close their preparations to face a new tournament, in addition, as is already a custom as a result of the pandemic, tests for COVID- 19; however, one of the teams is in serious trouble.
The Tigers have up to eight infected, during the week the cases of Jesús Angulo, Carlos González and Carlos SalcedoTherefore, his commitment to Santos Laguna, scheduled to take place next Saturday at the Corona stadium, is in danger of being postponed due to this possible outbreak.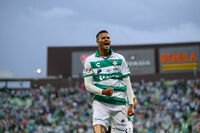 SEE MORE Italy's Parma would seek to repatriate Santos Laguna striker Alessio Da Cruz
Dutch attacker could return to the Italian club
At the moment neither the feline board nor the MX League have spoken about it, in addition, the club will no longer have open-door training sessions for the media, while their press conferences will be held again virtually.
Tigres closed 2021 with a comfortable victory against Venados de Mérida in a friendly match played at the Volcán. Gignac, Quiñones, Venegas, Guerrero, Fulgencio and Dueñas were present on the scoreboard.