A hospital in Missouri, USA, made headlines because 10 labor and delivery nurses are pregnant at the same time.
"I think it's really unique because they all work in the same unit. Our population ratio is quite high. It sure happens, but it's very exciting when it's this big."said obstetrician-gynecologist Anna Gorman, who is part of the staff of the Liberty Hospital and it is also in the sweet wait.
/Home Embedded Code//End Embed Code/
The group of nurses joked that the explanation to this baby boom It's the hospital water. "None of this was planned nor is it in the water of the place," they responded with a laugh.
The news was spread by the hospital on its account. Facebook. There they shared an image of the 10 nurses with the following text: "We are expecting a baby boom in the birthing center! Ten of our labor and delivery nurses are expecting their own 'bundles of joy' this year!".
The first baby will be born in less than two weeks, and they indicated: "In the photo they grow in gestation from right to left."
As revealed in Good Morning America (GMA)all the nurses want to give birth at Liberty Hospital.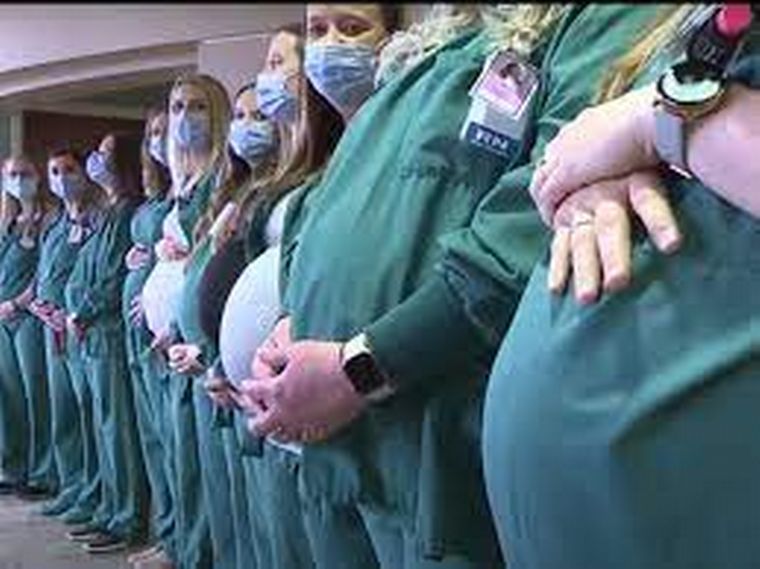 "It's been great having each other's support and being pregnant together," said Alex Atcheson, 29, who is expecting her third child.
Alison Harrell, 30, revealed: "With Alex we realized that we will give birth on the same day, and we started to make a list of all the pregnant people. They kept being added as time went on.".
Both Harrell and Atcheson are 37 weeks pregnant and hope to have their babies in their arms before the end of May.
Christen Burns, 26, recently joined the club: "I was one of the last to tell everyone I was pregnant. I think it was more exciting to add myself to the group and have everyone there with me."